What Down Payment is Needed to Buy a Home?
62% of Buyers Are Wrong About Down Payment Requirements.
According to the '2019 Home Buyer Report' conducted by Nerdwallet, many first-time buyers still believe they need a 20% down payment to buy a home in today's market:
"More than 6 in 10 (62%) Americans believe you must put at least 20% down in order to purchase a home."
When potential Chicago area home buyers think they need a 20% down payment to enter the market, they also tend to think they'll have to wait several years (in some markets) to come up with the necessary funds to buy their dream homes. The report continues to say,
"The truth: 32% of current U.S. homeowners put 5% or less down on their home, according to census data." (as shown below):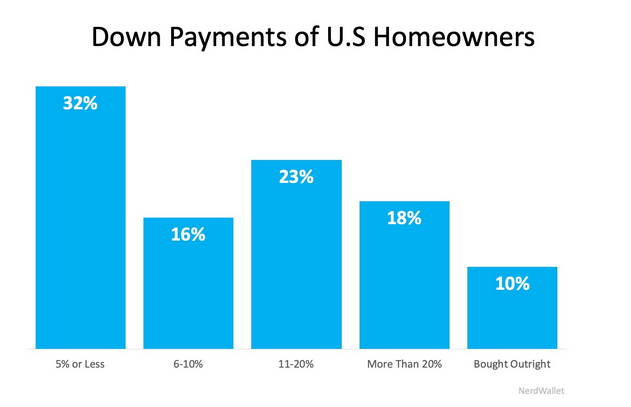 The lack of knowledge about the home-buying process is unfortunately keeping many motivated buyers on the sidelines.
Here are some of the more common Mortgage Loan Products that allow borrowers to have a down payment of less than 10%:
FHA. The Federal Housing Administration (FHA) mortgage insurance program allows the borrower to finance up to 96.5% of the home's value. This means that the home buyer can purchase a home with a down payment as low as 3.5%. To qualify for this option, borrowers must have a credit score of 580 or higher as per HUD guidelines.
Conventional. By definition, a "conventional" mortgage loan is one that is not insured by the federal government. That makes it different from the FHA program mentioned above. Fannie Mae and Freddie Mac, the government-sponsored corporations that purchase conventional loans from lenders, will buy mortgage products with loan-to-value ratios up to 97%. That means borrowers who use these programs can buy a house with as little as 3% down.
VA. Most military members and veterans in the U.S. can qualify for the Department of Veterans Affairs (VA) home loan program. This unique program offers mortgage financing up to 100%. That means the borrower can buy a house with no down payment whatsoever.
USDA. The U.S. Department of Agriculture offers home loan program for borrowers in rural areas who meet certain income requirements. Like the VA program mentioned above, it too offers financing of up to 100% for eligible applicants.
Bottom Line
Don't let a lack of understanding keep you and your family out of the housing market.
Let's get together to discuss your options today. Contact me today