Is Your House Priced To Sell Immediately (PTSI)?
In today's North Shore Chicago real estate market, with more houses being listed everyday and eager buyers searching for their dream home, setting the right price for your house is one of the most important things you can do.
According to CoreLogic's latest Home Price Index, nationwide, home values have risen at over 6% a year over the past two years, but have started to slow to 4.4% over the last 12 months. By this time next year, CoreLogic predicts that home values will be 4.6% higher.
With prices slowing from their previous pace, homeowners must realize that pricing their homes a little OVER market value to leave room for negotiation will actually dramatically decrease the number of buyers who will see their listing!
(see the chart)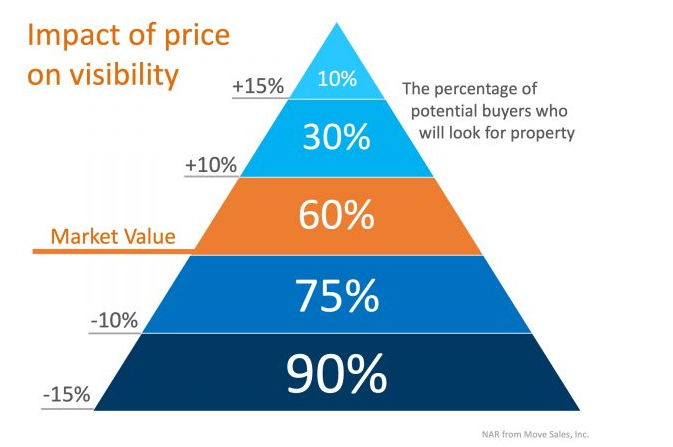 Instead of the seller trying to 'win' the negotiation with one buyer, they should price their house so that demand for the home is maximized. By doing so, the seller will not be negotiating with a buyer over the price, but may instead have multiple buyers competing with each other over the house.  Capturing the largest pool of buyers by pricing the home near the expected sales price verses the seller's dream price will maximize interest in the home and likely lead to offers coming in at or even over the asking price.
Overpricing a home is usually the worst strategy any home seller can make.   Overpricing usually followed by rapid fire price reductions in an attempt to chase the market.  Meanwhile, potential buyers who would have looked at the house when it first came on the market if it was reasonably priced never get to see the home since by the time the sellers lower many of the potential buyers may already be under contract on another home, or are reluctant to look at the home because it is seen as an old and stale listing.
The key to selling your house in 2019 is making sure your house is Priced To Sell Immediately (PTSI)
That way, your home will be seen by the most buyers and will sell at a great price before more competition comes to market
If you are thinking of selling your home, call me.   I'd love to sit down with you and help prepare you to move forward with your life..  Contact me — and move forward with your life.