Holiday Train is now in its 28th year of spreading joy and whimsy around Chicago.
Last Saturday the train was on the Purple line at about 4 pm. It's a full six car train completely redone in Holiday Lights, all along the train cars, around all the windows and right in the middle—a flatcar hauling Santa Claus!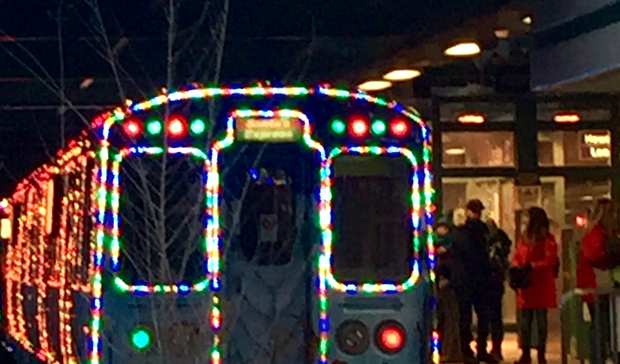 The train is especially enchanting in the evening as darkness descends on the day. And the interior of each rail car is just as spectacularly decorated for the holidays. All the passenger lighting has been converted to red and green, all the seats-every single one-have been reupholstered in Santa Claus themed red and green fabric. Even the standee poles have been draped in twisty red striped vinyl, to resemble candy canes. It's an over-the-top experience.
After the train made it's first run from Howard to the Linden stop in Wilmette, dozens of excited little kids and their parents were running to catch a ride on the train which would be making the long Evanston Express run to downtown. It's a magical experience, made all the better by friendly extra CTA "Elves" handing out candy canes and directing folks to the cars with available seating.
The train generally operates from about 1pm to 8pm on weekends and 3pm to 7pm on select weekdays (schedules for each rail line will vary), and will make stops at all stations along the respective routes.  Every Saturday the Holiday Train is in service, the Elves' Workshop Train will follow to allow more riders to enjoy this one of a kind holiday experience.
visit link below for the full Holiday Train Schedule.